I love living in New York, and I've grown up a lot in the past three years of living as an adult here. But? And? California is a pretty ideal place to visit or even live, to be honest, and I know having lived there myself for quite some time. It's predictable (even in all of its environmental unpleasantries), it's sunny and warm (nearly 100% of the time), it's beautiful, it's got beaches, mountains, and city vibes. Quality of life and ease of day-to-day living is high, especially if you're a veggie like me. I spent ten years living in my delightful Los Angeles bubble of like...actual food o p t i o n s. Admittedly, the so-many-choices-what-to-do thing was a bit much for my tried and true dry salad, hold the everything option I had become so accustomed to. The veg movement really has come a long way, hasn't it? Having been the only vegetarian in my house (and now vegan) since the age of 7, I had to learn fast how to:
Not starve
Remain polite at dinner parties. A good example would be "Oh this dry lettuce is tremendous where did you get it? Is it organic? It tastes like fucking gold." Okay, not exactly. Instead I might have coughed up something like "Ya know I'm not really feeling that great, and I don't have much of an appetite, so this salad is perfect. Thank you." I never wanted to hurt my hosts feelings and I definitely never wanted to make it seem like being a vegetarian was difficult. Because future me knew it couldn't be easier.
Develop a palate for vegetarian foods I didn't like, because God forbid I'm also a picky eater on top of it. You don't like olives? Can you even afford that?
Just say I was allergic to meat so as to avoid any conflict or discomfort, especially if I was feeling defensive or feisty.
Learn to escape the maddening claim in retort to my stated vegetarianism "It's just chicken,"
or
"You can pick out the bacon bits."
But in Silverlake, the Los Angeles neighborhood I lived in at the time, had the restaurant Flore, where I could get a tempeh reuben. Or Mowhawk Bend, where I could enjoy vegan pizza or a fried green tomato po'boy (AT THE SAME TIME that my friends enjoyed some non-vegan options). Or Sage Organic Bistro, where I can get truly stuffed on a jackfruit "pulled pork" bbq sandwich or hearts of palm ceviche. P.S. this list simply scratches the surface of the ever expanding vegan restaurant options out west. It's like a vegan fucking mecca.
Joshua Tree?
Not exactly the vegan mecca that LA is, although the concept is not at all lost on this rustic, desert town, which boasts its fair share of my favorite kind, the hippie kind. Originally Jason and I were flying out for a 5 year wedding anniversary celebration, but some of the plans got funky and that part of the trip was cancelled. We decided to go anyway.
And I am so glad, because it was fu#$&*! awesome. I'd been to Joshua Tree many times before but this time we had nothing to do. No one to see. Nowhere to be. We made up our adventure as we went, and it was s-w-e-l-l.
Day 1: We flew into Palm Springs International Airport because it was somehow cheaper and HOLY SHIT, if I never have to fly into LAX again it'll be too soon. Even if it's a little extra I highly recommend it. What you save in dollars flying to LA you lose in sanity and time. You choose what matters more, I totally get it. The drive to Hicksville Trailer Palace, where we stayed the first two nights, was about an hour through Yucca Valley and we were cutting it close to the final cut off time for checking in. Jessica greeted us with a brief tour, some basic rules (there really aren't many), tossed us our keys to the Fifi trailer (more on that in a minute) and a little pillbox stuffed with marijuana cuz CALIFORNIA FOR THE WIN!
A quick word on the Fifi: um, it's amazing? The end. And you need to go. A longer word: Hicksville was created by a filmmaker from Los Angeles who wanted to create a unique space where artists could escape to get inspiration and work in a quiet, private place. Then he decided to open it up to the public in 2010. Everything is on the super-down-low; you don't get the address until your about thirty minutes away when they request that you call a particular number which was emailed to you the day before. It's super neat-o and weird and nothing captures the essence and magic of the place better than this article right here. Also, the whole place runs entirely on solar panels. #veganfortheplanet
Day 2: After climbing around our tiny, yet hilariously stimulating trailer with a couple of coronas the night before we woke up what seemed like eighteen hours later and shuffled to the Keurig machines which took credit cards, cost $2 a coffee, and was dispensed into the random, non-matching mug of your choice obtained from the communal outdoor kitchen cabinets. We shuffled sleepily back to the Fifi, shielding our eyes from the blinding desert sun, a definite relief from the whipping 20 mph winds that welcomed us to California the previous evening. Inside, we comfortably squished our toes in the purple shag carpet whilst sipping our coffee in style, cuz wigs?
It was hard to get movin' because of the acid trippin' location we woke up in, but two things got us in our rental car:
1) HANGER
2) Our friend KK had just been in JT three weeks prior and she left us a surprise to find with a clue and some GPS coordinates:
Oh my GAWD perf! We can kill two birds with one stone (but oh my GAWD I would never) and find our present after going to this vegan restaurant! Yesssssss. We arrived at the restaurant and alas! I'd been here before, and now I'm getting excited because if memory* served me it was delicious (*memory served me). The place is called Natural Sisters Cafe and I ordered The World of Flavors salad, small, and it was ENORMOUS. Great bang for your buck. We met a sweet little lady named Stella and her mama Sarah. We chatted for awhile and baby's been vegan her whole tiny life. Not only that, they were from upstate New York and had been on the road traveling all across the US living my dream life. You can check out their journey on instagram here.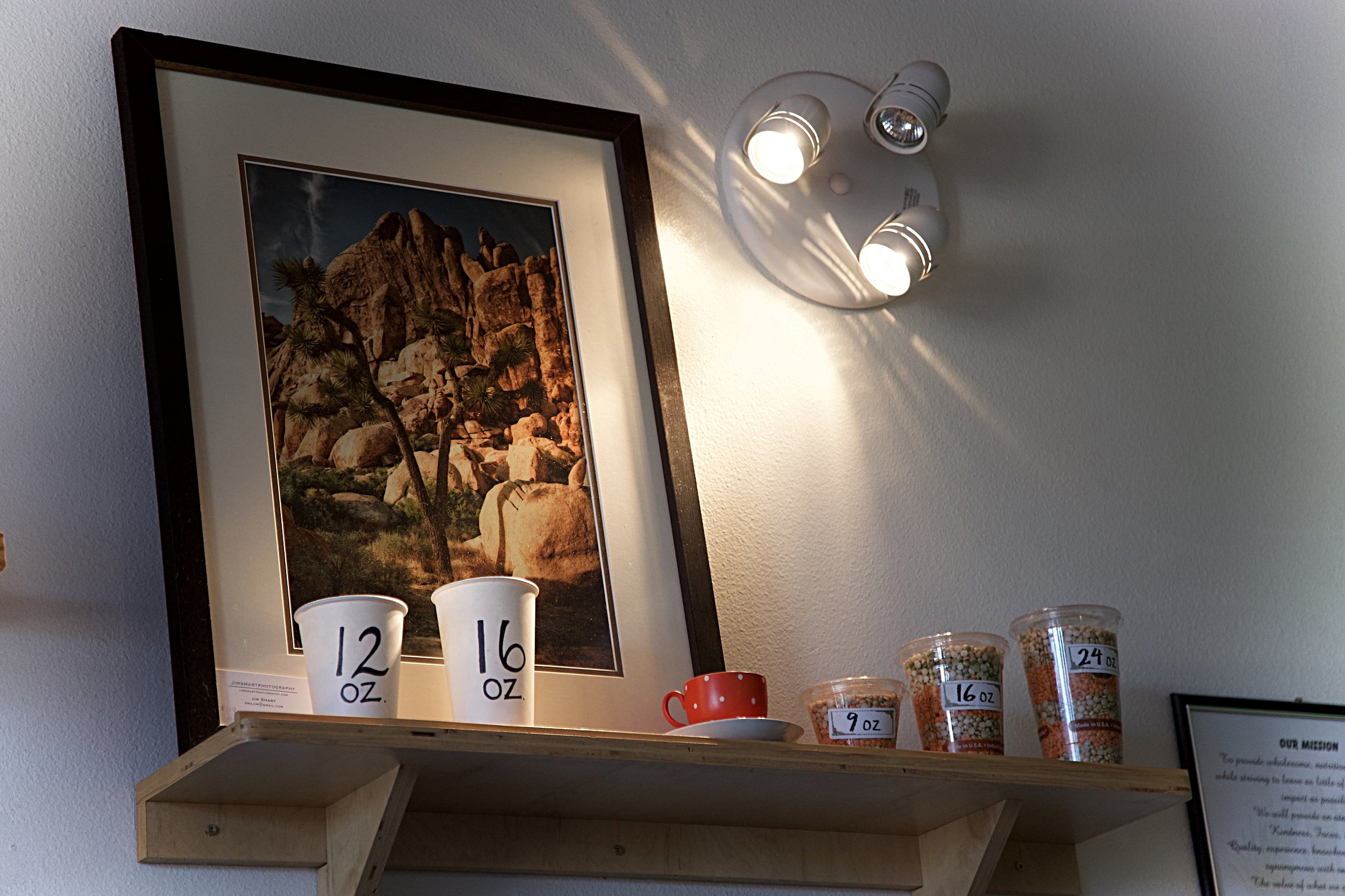 Click to scroll through images
Next we moved onto to find our amazing new treasure and much to our dismay it had been blown away. We searched long and hard and when we couldn't find it, KK told us what we were looking for: a piece of coral she found floating in the waters of Hawaii while surfing. The local tattoo parlor said they had the craziest winds over the past week and he'd be surprised if a tiny treasure would have stayed in its right place. We decided, with nothing to do, that we would take a drive and get lost. Turns out we got lost all the way up the mountain in Big Bear (a three hour drive) - we went from the desert up to the snowcapped mountains and back down again to JT. Roundtrip 5 hours, and Big Bear was way less vegan friendly. Fortunately, I still had my monster salad leftovers to munch on. It was time to move on, and by movin' on I do of course mean movin' on back to that sweet ass trailer park. I mean, it's exhausting sleeping 100 hours and sitting for 5 more in the car.
(Click to scroll through images)
First we stopped at Walmart to food shop, because we were gonna grill and hang with some buddies we made at the trailer. We got kumquats, salad stuff, tofu, veggie sausages, chips and salsa and liquor drinks for our chilly fire-side hot tubbin' later that night. Hey Walmart! Good job on the vegan selection...but maybe more veg options and fewer guns? K, please and thanks. Oh yeah, I almost forgot TO SHOW YOU THE TRAILER PALACE!
We made salad, played mini golf, did some archery with Trump as a target (yugely great fun) and started drinking
H
E
A
V
I
L
Y
The rest of the night was a blur. But I suspect it was a very good time. I do have some proof that we played music from the juke box, there was a christmas-ly lit dome thing to add even more color to the black desert night sky, and that the mood was just as special at night as it was by day. We even met a lion dog the next day and spent some more time in our cute AF little home. Are you sick of these pictures yet? Cool, here's some more:
Click to scroll through images
You're probably wondering if we ever actually entered Joshua Tree Park and the answer is HELL YES, but first we switched locations and reluctantly moved into our private little cabin about twenty minutes away courtesy of Thunderbird Lodge and stayed in the shell house. Basically the exact opposite vibe of Hicksville, but equally special. Quiet, lazy, beautiful starry skies, king size bed, bear foot claw tub, backgammon, wood burning stove/fireplace, scrabble and lots of open kitchen space. Outside there was a grill and other found objects strewn about (this sort of artistic habit of homeowners in JT is one of my favorites: junkyard lawn ornamenting). Believe it or not, we headed back to Walmart for more fix-ins because Jason and I were quite enjoying cozying up together and staying warm inside while listening to the thrashing winds blow through all the seashell chimes hanging outside.
Click to scroll through images
After we settled and grocery shopped for dinner and breakfast the following morning, we decided to head to Pappy and Harriet's in Pioneertown, a kitschy western inspired bar and restaurant with a pool table and proper music venue in the back. This place draws in some of LA's best indie musicians. Not many vegan options, but our waitress was real friendly and helped me make some modifications so I could enjoy a hearty (and healthy) burrito type bowl with brown rice and beans and avocado, etc... After that we walked through "town" and stopped in the local shops, saw some caged hens and hoped they were happy and free, and then we made our way back "home."
When we got back we made dinner, played games, took a soak in the tub, and made sandwiches and packed lunches for our hike through Joshua Tree the next day. It was a very restful night so when we woke up early the next morning, we made our breakfast of vegan yogurt, fresh berries and vegan granola!
Needless to say, we left Joshua Tree quite begrudgingly. It was a time warp, an actual vacation. Four days that felt like ten. We were refreshed, muscles relaxed and regenerated, souls revived. We couldn't stop the adventure SO WE DIDN'T. On our drive back to Palm Springs International Airport, we took the scenic route back through JT national park and made our first detour to Cholla Cactus Garden before making our way to the Painted Desert near PS, went on an extraordinary hike up, up, up and caught a glimpse of the Salton Sea.
It was a magical way to end the trip before boarding our red eye back to life, back to reality. See you next time, you slice of magic. Joshua, my Tree, you are a special place, and a part of me will always long for you. ***** (Those are five stars, now GO!)